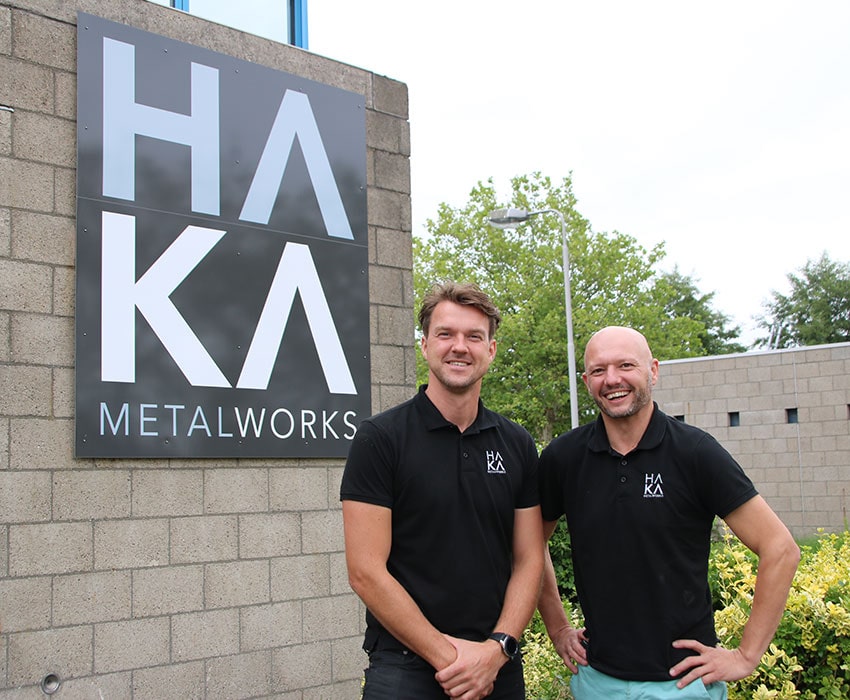 Arjan HAzelhoff and Marcel van de KAmp. Strong in customization and in metal.
The HAKA is a ritual and ceremonial dance of the Maori tribes of New Zealand. It has become a symbol of the All Blacks, the New Zealand rugby union team and of rugby in general. Our core values ​​are linked to this symbol: energetic , connecting and original . We stand for fast and reliable advice and unique products. You work together with HAKA.
We work every day from a fresh and down-to-earth view of the market, are creative and have more than 20 years of professional and market knowledge. Customer focus, humor and keeping our promises are self-evident ideals with which we enjoy working for our customers every day.
We translate your custom request into high-quality products: we take care of the entire process from drawing to delivery. So that you can do business and take a step forward.
Our expertise focuses on customer-specific serial steel productions. We supply to construction, scaffolding, greenhouse construction, stable construction, infrastructure specialties and industry. Feel free to contact with us.
In line with HAKA we say: A upane! Ka upane!
[We are happy to take a step forward with you!]
The HAKA metalworks group consists of the following companies:
HAKA metalworks believes that innovation is the engine of our economy
HAKA verzorgt uw volledige 'outsourcing' van ontwikkelings- en productietrajecten in Azie en Oost Europa. Wij zorgen voor een aanzienlijke inkoopbesparing en leveren u een optimale prijs-prestatie verhouding. Dit om te zorgen dat u zo competitief mogelijk uw producten in de markt kan zetten. U hoeft zich geen zorgen te maken over de kwaliteit, wij gaan graag de kwaliteits- en prijsconcurrentie aan met West-Europese productie bedrijven. Bij HAKA ligt uw productie in goede handen zodat uw bedrijf zich bezig kan houden met de core-business.
Step-by-step plan from product request to service
What do customers say about it
HAKA Metalworks

Excellent service, good quality products and good price. HAKA quickly thinks along with the development / design of new products and quickly converts it into drawings and possibly prototypes. Personal contact with often 1 contact person is very pleasant.

When purchasing you want to be as close to the source as possible. The short lines, flexibility, thinking along, listening and translating my specific wishes into a qualitatively usable product goes very well with HAKA. It is nice doing business with these guys.